Ceremonial Grant Award Check Presented to UC Researchers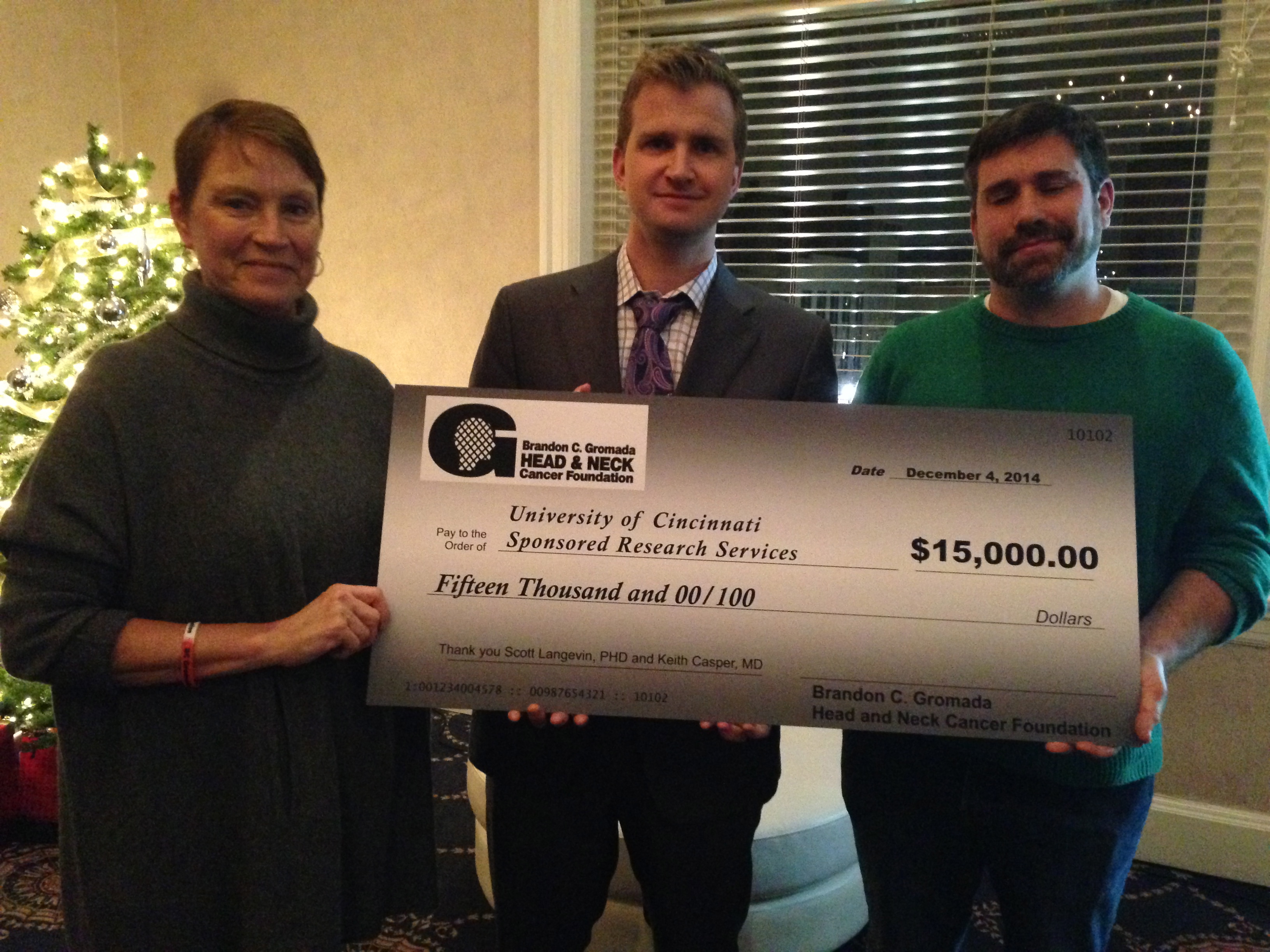 This year Brandon's Foundation awarded its first research grants. During the December 4th Happy Hour at The Phoenix in downtown Cincinnati, the researchers who submitted one of the two research proposals awarded the foundation's first grant awards were presented with a ceremonial award check. Receiving the ceremonial $15,000 check to investigate "A Comprehensive Study of Common Mutations in Sinonasal Cancer" were Scott Langevin, PhD, MHA and otolaryngologist Keith Casper, MD, from the University of Cincinnati (UC) College of Medicine/UC Cancer Institute. Dr. Langevin said he and assistants planned to begin DNA extraction from sinonasal cancer tumors before the end of 2014. They will then move on to the task of looking for mutations in the extracted DNA.  
Unable to attend the ceremony was Stephen Y. Lai, MD, PhD, FACS of the University of Texas MD Anderson Cancer Center, who submitted the research proposal "MiR-27a* Targets Critical Signaling Pathways in HNSCC (head and neck squamous cell carcinoma)." Dr. Lai was awarded a $10,000 grant by Brandon's Foundation. 
Details of the grant-winning research projects and the grant proposal process used by Brandon's Foundation were included in a previous blog post. Hearing from researcher after researcher who submitted a proposal about the lack of funding for head and neck cancer research was the most profound aspects of the the grant award process. Questions and comments are welcome as the Board of Directors moves forward, revises the process and awards more grant funding for head and neck cancers in 2015.