It's time to "laissez les bon temps rouler" February 10, 2018!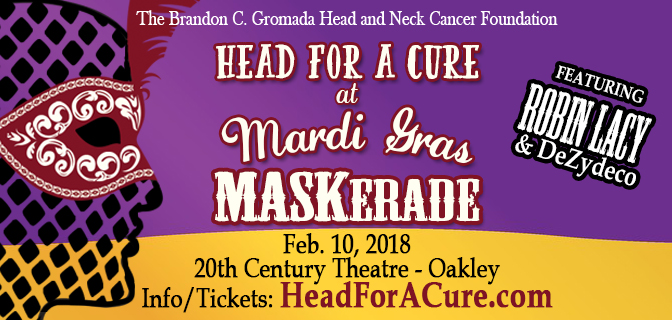 The online box office is open to purchase tickets for Brandon's Foundation's third annual Mardi Gras MASKerade, featuring Cincinnati party band Robin Lacy & DeZydeco! This fun-filled fundraising event takes place February 10, 2018 - the Saturday before Ash Wednesday - from 7:30 p.m. to Midnight at the 20th Century Theater in Oakley (3021 Madison Road, Cincinnati, OH 45209) Free valet parking will be available. This event gets bigger and better every year! A DJ will follow Robin Lacy & DeZydeco to keep attendees on the dance floor until midnight. And back by popular demand, tarot card readers will predict guests' futures and the photo booth will again snap zany group keepsake photos! Guests may compete in the costume contest for the honor of being crowned Queen and King of the MASKerade. (Amy attire is welcome.  Other highlights include a silent auction with a variety of fabulous items, fun and exciting prize-filled raffle baskets, split the pot, the Benn Banks Mardi Gras Duck Pond - a wine (sponsored by Constellation Brands) and craft beer raffle where everyone is a winner, and more! A signature Mardi Gras beverage can be enjoyed in the Foundation's souvenir Hurricane Glass.
The first 50 tickets sold online offer a $25 discount so each Early Bird ticket is only $50! Once these are gone, the price returns to the $75 per ticket, so purchase tickets TODAY!
Mardi Gras MASKerade sponsors receive special treatment at the event! For information about sponsorship opportunities, Contact Us at Brandon's Foundation.
Don't miss out! Join us February 10th. Have a great time as you "laissez les bond temps rouler" AND Head For A Cure to end head and neck cancer through research! 
SAVE the date April 16, 2018 from 5-9 p.m. dinner hours for the sixth annual Great Food for a Great Cause at The National Exemplar in Mariemont, OH. All proceeds from food purchases, whether dine in or carry out, will be donated to Brandon's Foundation! More information to come!