Laissez Les Bon Temps Rouler - February 8, 2020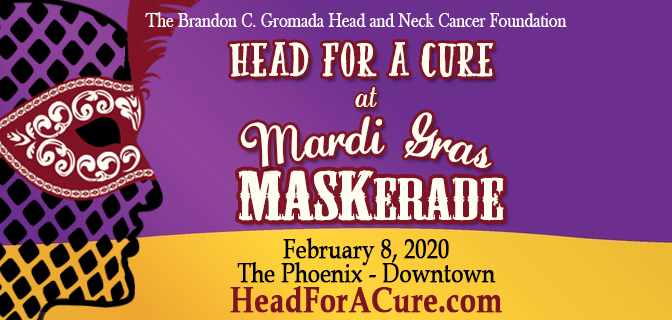 Head For A Cure at the 5th annual Mardi Gras MASKerade, the foundation's main fundraiser on February 8, 2020 at The Phoenix, 812 Race Street, downtown Cincinnati. Plan to join us for an evening of music, magic and lots of fun. Face painting, tarot readers, raffles and the ever-popular Constellation Brands' Benn Banks Wine Win Duck Pond will be back. In addition to many wonderful items, a special item in this year's silent auction is a one week/7 nights stay in a 2 bedroom, 2 bath apartment in Rome, which sleeps 4-5 - and the silent auction will again be available online! 
Purchase individual or table sponsorship tickets online NOW! The limited discounted "early bird" tickets are still available online, but are not likely to remain long!
When you Head For A Cure with us at the Mardi Gras MASKerade, Great Food for a Great Cause, or any other event, you truly are working to end head and neck cancer by funding innovative research. Your gifts to Brandon's Foundation allowed us to award two grants of $25,000 in 2019. Trisha Wise-Draper, MD, PhD, was the recipient of the $25,000 University of Cincinnati Cancer Center's (UCCC) Brandon C. Gromada Head & Neck Pilot Grant for her research proposal Inhibiting the IL-6 and pSTAT3 Pathway in Natural Killer Cells for Treatment of Head and Neck Squamous Cell Carcinoma. The second research proposal funded at $25,000 was awarded to Stephen Y. Lai, MD, PhD, of the University of Texas MD Anderson Cancer Center for a "next step" renewal project, Testing the Efficacy of miR-27a* in Preclinical Models of Head and Neck Squamous Cell Carcinoma (HNSCC). 
THANK YOU for your ongoing support! You are making a difference in the effort to find less-debilitating treatments and put an end to head and neck cancer. Because of you the day will come when no other families will have to know the profound sadness of missing a vital member due to this disease.