Mardi Gras MASKerade 2017 a success because of you!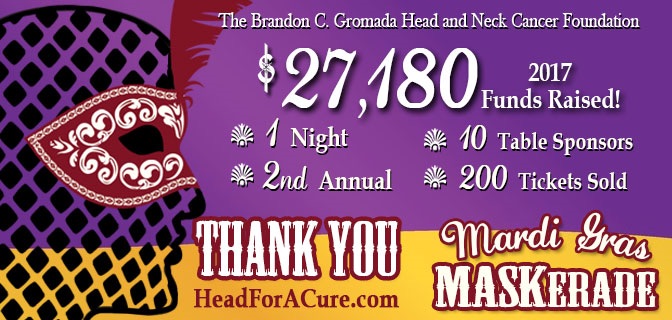 Thank you! Thank you Mardi Gras MASKerade 2017 attendees, table sponsors, auction item donors, Constellation Brands, Inc. for sponsoring the Benn Banks Craft Wine & Beer Raffle, mail-in donors, speakers, and the staff of the 20th Century Theater! Because of you Brandon's foundation will Head For A Cure with more than $27,000 for head and neck cancer research! The evening again ended with the Beastie Boys Sure Shot, because We Can't, We Won't and We Don't Stop until head and neck cancer is cured. 
A special thank you to Christina Keuper Gromada and the Mardi Gras MASKerade committee for all the planning and the time they invested to make the event such a success. 
Thank you, again, and mark your calendars now for February 10, 2018 when we will once again Head For A Cure and "laissez les bond temps rouler" during our third annual Mardi Gras MASKerade!