New UCCI - Brandons' Foundation Research Fund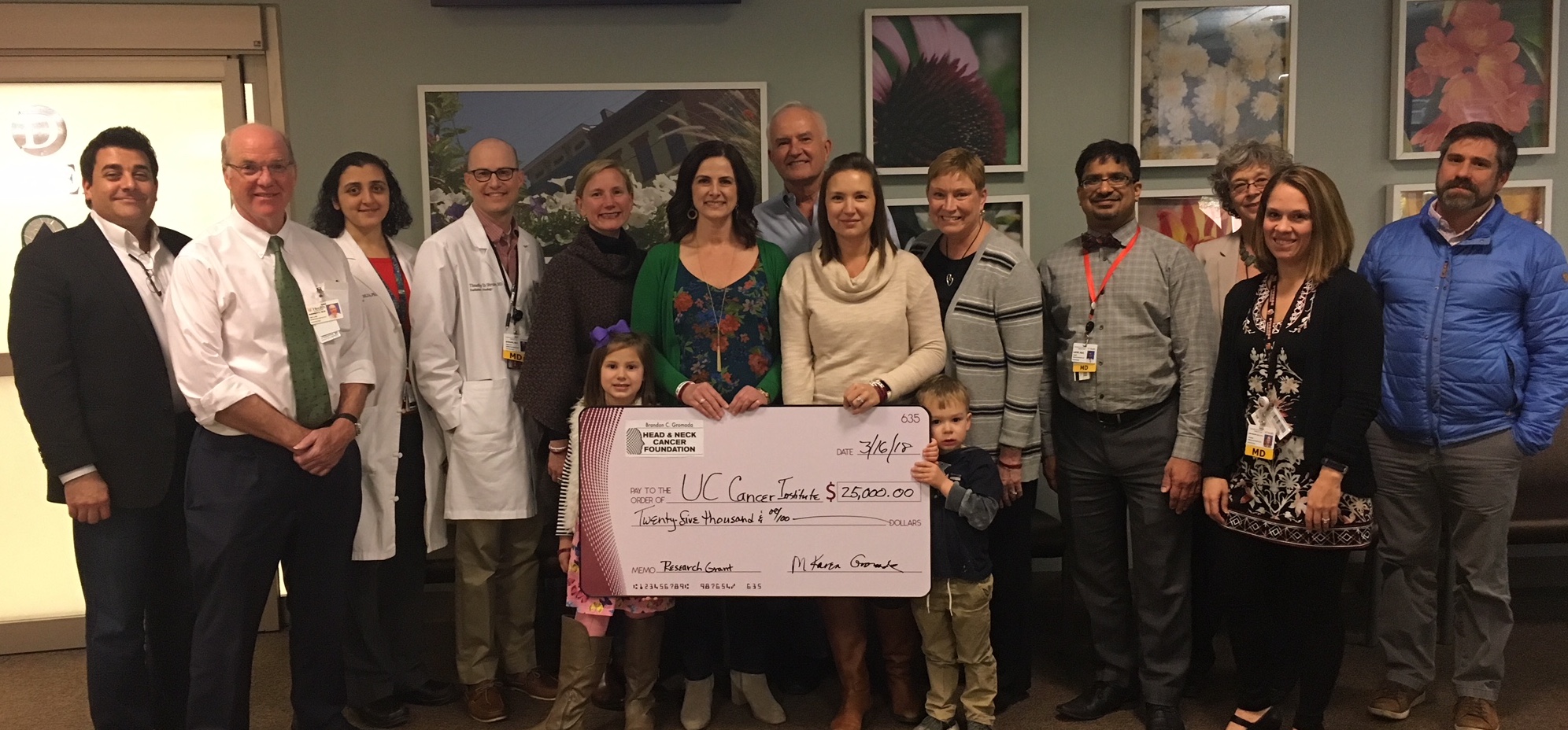 Establishment of the University of Cincinnati Cancer Institute Brandon C. Gromada Head & Neck Cancer Foundation Research Fund
Several weeks ago Brandon's Foundation made an agreement to award an annual grant to a University of Cincinnati Cancer Institute (UCCI) researcher for an innovative head and neck cancer research project. Last Friday, March 16, Brandon's 44th birthday, members of the foundation's Board of Directors, Brandon's daughter and one of his nephews met with physicians and researchers at UCCI to present a check for $25,000 for the first annual grant award. The decision to create this collaboration was based on several factors: 1. Brandon received excellent care at UC Health Barrett Cancer Center during his illness; 2. Each year since the first grants were awarded (2014) at least one UCCI research project submission has been a top scorer and been awarded Foundation funding. (Submissions were subject to blind peer review and scoring by experts in head and neck cancer.) 3. The Board of Directors will continue to have a voice in research project selection. 4. The majority of support and donations to the Foundation come from the area served by UCCI. 5. This has the potential to help draw even more experts in head and neck cancer to UCCI and this area. The Foundation plans to continue to award an additional grant, which will be open to other head and neck cancer researchers in the USA. A "Request for Abstracts" (RFA) for that award will be sent out in the next 1 to 2 weeks.
AmazonSmiles
Brandon's Foundation can now benefit from the AmazonSmile Foundation when you sign up for AmazonSmiles and choose (under the "Or pick your own charitable organization") the Brandon C. Gromada Head & Neck Cancer Foundation to benefit from eligible purchases made through the AmazonSmiles URL. They will then donate 0.5% of the purchase price to Brandon's Foundation! (For more information, see their About page.) And from March 12 - 31 Amazon is tripling the donation amount to 1.5% when customers make their first eligible AmazonSmiles purchase! Please head to AmazonSmiles NOW to sign up and choose (or change your choice of charity to) Brandon's Foundation!
Great Food for a Great Cause
Make your reservation NOW for April 16, 2018 at The National Exemplar (6880 Wooster Pike, Mariemont, OH 45227) for the sixth annual Great Food for a Great Cause. Whether you dine in or carry out, all food proceeds from the 5 to 9 p.m. dinner hours will be donated to Brandon's Foundation! Reservations may be made online or by calling (513) 271-2103. See you there!