SAVE THE DATES!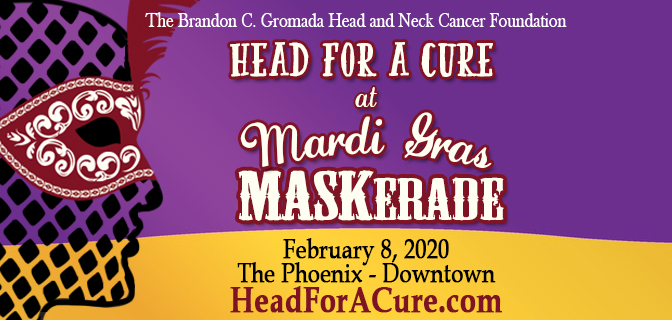 Last week Brandon's Foundation awarded a second 2019 grant of $25,000 for a head and neck research proposal. (More on the 2019 grant awardees and their projects soon!) This means your generosity has allowed us to award $50,000 to promising research during 2019 and a total of $236,000 since 2014! 
December 3rd is #GivingTuesday. We hope you will again remember Brandon's Foundation next Tuesday and help us continue to fund the innovative research that will lead to less-debilitating treatments and the cures that are so needed for head and neck cancers. Donations may be made online at the Foundation's Donate page or or via the mailing address available on the Contact page. (If donating online, be sure to click "Continue" after assuring us you are not a robot!) Thank you for your ongoing support!
Brandon's Foundation will host the 5th annual Mardi Gras MASKerade to Head for a Cure the evening of Saturday, February 8, 2020 at The Phoenix in downtown Cincinnati, Ohio. Last year's event raised $29,500 and with your help the 2020 event will raise more than $30,000 for research. For information on sponsorship levels, hosting a table or donating items for the silent auction, please contact us via email - bcg.headneckcafdn@gmail.com. Tickets for the evening will soon go on sale online, so continue to visit our web site. More details will be available soon!