Thank you to FAB 4 A CURE Participants!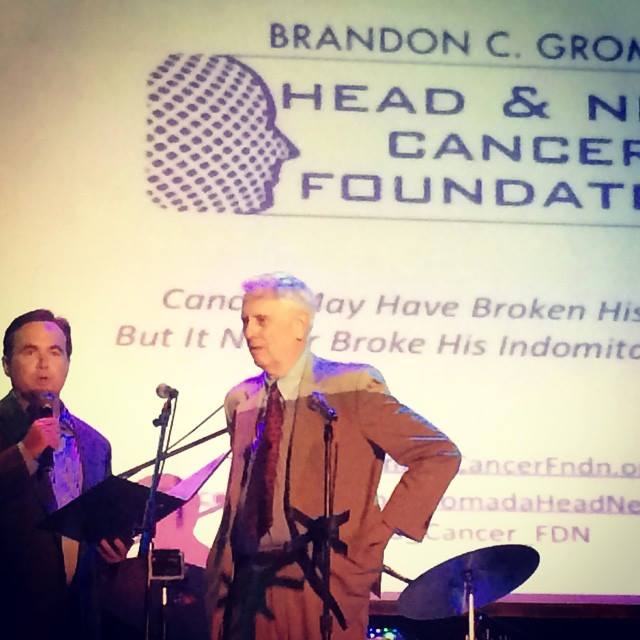 Thank you to all who did Come Together on August 27, 2014 at the 20th Century Theater (Cincinnati's Oakley neighborhood) to celebrate the 50th Anniversary of the August 27, 1964 Beatles concert at Cincinnati Gardens. Everyone had a Fab time while also raising research funds to find cures for head and neck cancers! Festivities began at 3 p.m. when author Ken Womack shared information about the Beatles 1964 USA tour. He spoke again after the Cincinnati premiere of Good Ol' Freda, a documentary about Freda Kelly, the Beatles secretary for 10 years - a job offered to her when she was 17 years old. The film is a fascinating look at Beatlemania during the 1960s. Scott Langevin, PhD, and Keith Casper, MD, from the University of Cincinnati College of Medicine and awardees of the Foundation's first research grant, explained their research project and spoke about head and neck cancer.
Cincinnati band Glory Days got the theater rocking and attendees dancing with live music from the Beatles and other 60s' British invaders. Between Glory Days and The Remains, former WSAI "Good Guy" Dusty Rhodes, who many consider THE Beatles DJ in Cincinnati during the 60s, shared his remembrances of how the WSAI Good Guys' team brought the Beatles to Cincinnati in 1964. While he was on stage, Cincinnati Mayor John Cranley, a St. Xavier High School classmate of Brandon's, joined him and issued a proclamation regarding the 50th Anniversary of the Beatles concert at Cincinnati Gardens, which he presented to Dusty Rhodes. Then The Remains took the stage until 11 p.m. and one truly felt back in time and at the Beatles concert.
During all the activity inside the theater, a silent auction was occurring out in the lobby. Thank you to all who donated items and to those who bid and won!
Event headliners Ken Womack, Dusty Rhodes, Mayor John Cranley, Drs. Langevin and Casper, and the amazing members of Glory Days and The Remains deserve a very special Thank You for making the evening such a success. Thanks also the staff of the 20th Century Theater – and to WLWT5 for the TV coverage!