Your Support Means Everything!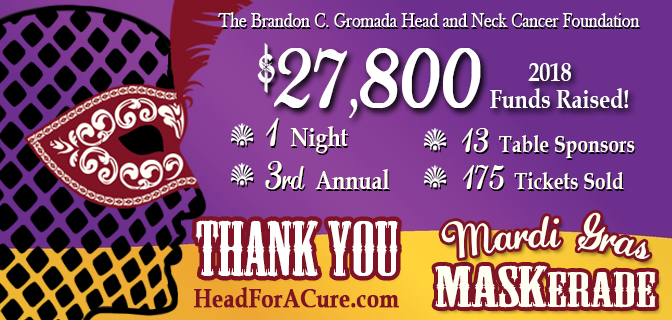 Thank you! Thank you Mardi Gras MASKerade 2018 attendees, table sponsors, auction item donors, Constellation Brands, Inc. for sponsoring the Benn Banks Craft Wine & Beer Raffle, mail-in donors, speakers, and the staff of the 20th Century Theater! Because of you Brandon's foundation will #HeadForACure with $27,800 for head and neck cancer research! As every year, the evening ended with the Beastie Boys Sure Shot, because We Can't, We Won't and We Don't Stop until head and neck cancer is cured. A special thank you to Christina Keuper Gromada and the Mardi Gras MASKerade committee for the time they invested to make the event such a success. Thank you, again, and mark your calendars now for March 2, 2019 when we will once again Head For A Cure and "laissez les bond temps rouler" during our third annual Mardi Gras MASKerade! 
AmazonSmiles
Brandon's Foundation can now benefit from the AmazonSmile Foundation when you sign up for AmazonSmiles and choose (under the "Or pick your own charitable organization") the Brandon C. Gromada Head & Neck Cancer Foundation to benefit from eligible purchases made through the AmazonSmiles URL. They will then donate 0.5% of the purchase price to Brandon's Foundation! (For more information, see their About page.) And from March 12 - 31 Amazon is tripling the donation amount to 1.5% when customers make their first eligible AmazonSmiles purchase! Please head to AmazonSmiles NOW to sign up and choose (or change your choice of charity to) Brandon's Foundation!
Great Food for a Great Cause
Make your reservation NOW for April 16, 2018 at The National Exemplar (6880 Wooster Pike, Mariemont, OH 45227) for the sixth annual Great Food for a Great Cause. Whether you dine in or carry out, all food proceeds from the 5 to 9 p.m. dinner hours will be donated to Brandon's Foundation! Reservations may be made online or by calling (513) 271-2103. See you there!